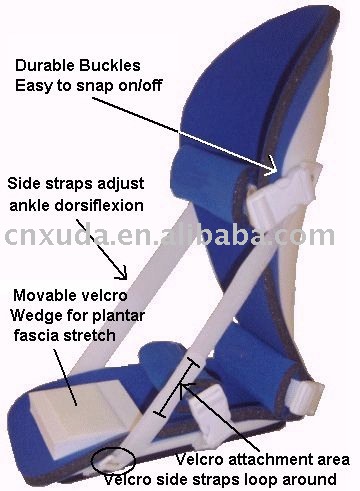 Overview
Plantar fasciitis is one of the most common causes of heel pain. It involves pain and inflammation of a thick band of tissue, called the plantar fascia, that runs across the bottom of your foot and connects your heel bone to your toes. Plantar fasciitis commonly causes stabbing pain that usually occurs with your very first steps in the morning. Once your foot limbers up, the pain of plantar fasciitis normally decreases, but it may return after long periods of standing or after getting up from a seated position. Plantar fasciitis is particularly common in runners. In addition, people who are overweight and those who wear shoes with inadequate support are at risk of plantar fasciitis.
Causes
It is common to see patients with Plantar Fasciitis who have been wearing shoes that are too soft and flexible. The lack of support can be stressful on the heel for those patients who's feet aren't particularly stable. If these ill fitting shoes are worn for long enough, the stress will lead to Heel Pain as the inflammation of the fascia persists. Footwear assessment and advice will be essential in order to get on top of the Plantar Fasciitis. It may surprise some people to learn that high heeled shoes are not the cause of Plantar Fasciitis, although they can cause tight calf muscles. High arches can lead to Plantar Fasciitis. This is due to the lack of contact under the sole of the foot. Even sports shoes which appear to have good arch support inside are often too soft and not high enough to make contact with the arch of the foot. Hence, the plantar fascia is unsupported. This can lead to Heel pain and Plantar Fasciitis. Flat feet can lead to Plantar Fasciitis. Flat feet is caused by ligament laxity and leads to foot instability. Other structures such as muscles, tendons and fascia work harder to compensate for this instability. Heel pain or Plantar Fasciitis arises when the instability is too great for these other structures to cope with. The strain on the fascia is too severe and the inflammation sets in. Over stretching can lead to Plantar Fasciitis. Certain calf stretches put the foot into a position that creates a pulling sensation through the sole of the foot. This can cause Plantar Fasciitis which can cause pain in the arch of the foot as well as Heel Pain.
Symptoms
When plantar fasciitis occurs, the pain is typically sharp and usually unilateral (70% of cases).Heel pain worsens by bearing weight on the heel after long periods of rest. Individuals with plantar fasciitis often report their symptoms are most intense during their first steps after getting out of bed or after prolonged periods of sitting. Improvement of symptoms is usually seen with continued walking. Numbness, tingling, swelling, or radiating pain are rare but reported symptoms. If the plantar fascia continues to be overused in the setting of plantar fasciitis, the plantar fascia can rupture. Typical signs and symptoms of plantar fascia rupture include a clicking or snapping sound, significant local swelling, and acute pain in the sole of the foot.
Diagnosis
Plantar fasciitis is usually diagnosed by your physiotherapist or sports doctor based on your symptoms, history and clinical examination. After confirming your plantar fasciitis they will investigate WHY you are likely to be predisposed to plantar fasciitis and develop a treatment plan to decrease your chance of future bouts. X-rays may show calcification within the plantar fascia or at its insertion into the calcaneus, which is known as a calcaneal or heel spur. Ultrasound scans and MRI are used to identify any plantar fasciitis tears, inflammation or calcification. Pathology tests (including screening for HLA B27 antigen) may identify spondyloarthritis, which can cause symptoms similar to plantar fasciitis.
Non Surgical Treatment
Treatment of plantar fasciitis begins with first-line strategies, which you can begin at home. Stretching exercises. Exercises that stretch out the calf muscles help ease pain and assist with recovery. Avoid going barefoot. When you walk without shoes, you put undue strain and stress on your plantar fascia. Ice. Putting an ice pack on your heel for 20 minutes several times a day helps reduce inflammation. Place a thin towel between the ice and your heel,do not apply ice directly to the skin. Limit activities. Cut down on extended physical activities to give your heel a rest. Shoe modifications. Wearing supportive shoes that have good arch support and a slightly raised heel reduces stress on the plantar fascia. Medications. Oral nonsteroidal anti-inflammatory drugs (NSAIDs), such as ibuprofen, may be recommended to reduce pain and inflammation. If you still have pain after several weeks, see your foot and ankle surgeon, who may add one or more of these treatment approaches. Padding and strapping. Placing pads in the shoe softens the impact of walking. Strapping helps support the foot and reduce strain on the fascia. Orthotic devices. Custom orthotic devices that fit into your shoe help correct the underlying structural abnormalities causing the plantar fasciitis. Injection therapy. In some cases, corticosteroid injections are used to help reduce the inflammation and relieve pain. Removable walking cast. A removable walking cast may be used to keep your foot immobile for a few weeks to allow it to rest and heal. Night splint. Wearing a night splint allows you to maintain an extended stretch of the plantar fascia while sleeping. This may help reduce the morning pain experienced by some patients. Physical therapy. Exercises and other physical therapy measures may be used to help provide relief.
Surgical Treatment
In very rare cases plantar fascia surgery is suggested, as a last resort. In this case the surgeon makes an incision into the ligament, partially cutting the plantar fascia to release it. If a heel spur is present, the surgeon will remove it. Plantar Fasciitis surgery should always be considered the last resort when all the conventional treatment methods have failed to succeed. Endoscopic plantar fasciotomy (EPF) is a form of surgery whereby two incisions are made around the heel and the ligament is being detached from the heel bone allowing the new ligament to develop in the same place. In some cases the surgeon may decide to remove the heel spur itself, if present. Just like any type of surgery, Plantar Fascia surgery comes with certain risks and side effects. For example, the arch of the foot may drop and become weak. Wearing an arch support after surgery is therefore recommended. Heel spur surgeries may also do some damage to veins and arteries of your foot that allow blood supply in the area. This will increase the time of recovery.
Prevention
Being overweight can place excess pressure and strain on your feet, particularly on your heels. Losing weight, and maintaining a healthy weight by combining regular exercise with a healthy, balanced diet, can be beneficial for your feet. Wearing appropriate footwear is also important. Ideally, you should wear shoes with a low to moderate heel that supports and cushions your arches and heels. Avoid wearing shoes with no heels.